If you are driven by a passion for fishing, you most probably are aware of the importance of quality equipment that can help you in achieving control, stability, and control. Here comes the Abu Garcia that is famous across the markets because of its innovative, intelligent, and functional models within different budget ranges.
Based on your requirements, be it functionality, convenience, affordable price range, or better cast efficiency, it has a perfect device for you to enjoy the fishing process. Therefore, this article offers you a list of the seven best Abu Garcia spinning reels based on cast efficiency, drag system, convenience, and functionality.
Related: Best Shimano Spinning Reels
7 Best Abu Garcia Spinning Reels Compared
Best Abu Garcia Fishing Reels Review
Also, the stainless steel bearings contribute to its durability. In the end, I was initially really impressed with the spool lip design that ensured perfect control over the fishing process making it ideal for newcomers.
Apart from this, the bail system and smooth retrieval make it popular among users. Last but not least, the model further comes with a Rocket Line Management System that helps you in long-cast efficiency without any slipping or tangling.
3. Abu Garcia Revo IKE – Abu Garcia Saltwater Spinning Reel
It also includes an AM gearing system that helps in drag system efficiency and an improved cast system.
Lastly, this model comes with a Carbon Matrix Drag system known for its smooth retrieval and better gear ratio.
Here, the braided spool is a unique characteristic that I found impressive and efficient.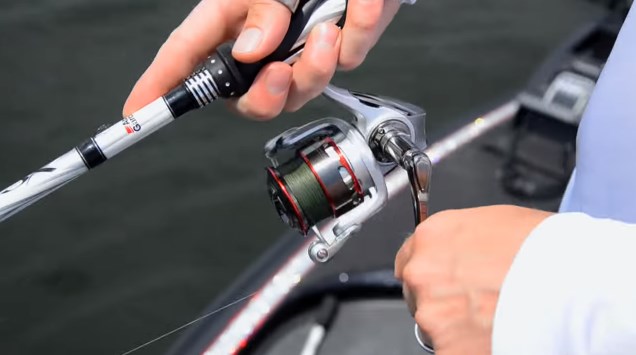 Despite the sturdy construction quality, it offers decent drag value for anglers, making it one of the most reliable. Overall, it is an exceptional spinning reel with such an affordable price point.
Last but not least, the product is made up of a unique magnesium alloy that adds to the durability of the spinning reel with a smooth application. The drag system is particularly designed for serious anglers with a better cast system and smooth gear ratio.
Also, with a retrieve rate of 30 inches, this Revo Premier offers an improved cast efficiency that helps anglers effectively. I further liked the carbon handle that helps you in controlling this device.
Another factor I really liked most about this device is that it can be used for right and left-handed users alike.
Lastly, it comes with an affordable price range despite having advanced features that is one of the reasons for me including this in the list of best.
How To Choose The Best Abu Garcia Spinning Reel
The anglers, especially novice anglers, prefer spinning reels over baitcasting reels.
While choosing the best, we always need a buying guide. Abu Garcia is one of the well-known and reliable brands among fishing reels. They have introduced many fishing reels with various features and qualities that aspire to professionals and beginners both.
You know the best angler is the one who chooses the best tool that suits him.
Let's discuss what to consider while buying the Abu Garcia spinning reel. While buying the spinning reel, you always look for
price
proficiency
performance
To consider proficiency and performance, you need to read this guideline,
Drag System:
Select the spinning reel having smooth, non-restrictive and reliable drag. It's the first thing to consider, as it aids in tension.
Weight:
The good spinning reel possesses lightweight. Balance and comfort ability ensure targeted achievement. The lightweight reel works finest in every case of casting. It requires a smaller amount of effort to handle and hold.
Heavyweight reels may cause lethargy, and you feel tedious soon, so you cannot cast ample fish.
Anti-Reverse Switch:
Nowadays, an Anti-reverse switch is standard—the spinning reel not having anti-reverse buttons does not come into consideration now.
Number of Bearings:
More number of bearings means good quality and reliability. The reel having less than four bearings should be rejected.
Few Facts About Abu Garcia
Abu Garcia, a well-known brand for manufacturing fishing reels, is founded by Carl August Brogstrom. They introduced their first fishing reel, "Abu Record", in 1941.
In 1952, they made World famous Ambassadeur reel, their name in manufacturing sport fishing.
Let's talk about a few facts about Abu Garcia,
Abu Garcia started with the title of ABU; they changed their name after inking an agreement about the partnership with Garcia in the US.
The founder of Abu Garcia was a specialist in manufacturing telephone timers, pocket watches and taxi meters.
After World War Two, the demand for his products declined significantly, and he redirected himself towards making fishing reels.
This brand manufactures reels in Asia instead of the US.
Abu Garcia's enthusiasm for maintaining leadership in the industry is unmatched. They provide anglers with high-quality and innovative products.
What Makes Abu Garcia Spinning Reels So Good?
You can never go wrong with these reels because of their lightweight and durability at such a fantastic price. These unique characteristics make Abu Garcia spinning reels good enough to consider it for various fishing styles.
Moreover, Abu Garcia spinning reels are known for their two distinctive features.
Smooth Drag System
Efficient Handling of Super Lines
Smooth Drag System
Abu Garcia reels are good with drag which plays an important role while fighting and improves your fishing experience. You can have a wide range of reel sizes for various fishing. Thus, choose the size that allows considerable drag for your desired catch.
Efficient Handling of Super Lines
Super lines or multifilament lines are very thin than usual monofilament lines. Still, they are sturdier than steel, making it the utmost choice of professional anglers, especially for tough saltwater fishing, where tides are rough, and the fishing environment is tough. You will find Abu Garcia reels best for handling the super lines efficiently.
Final Thoughts On Best Abu Garcia Spinning Reels
Wrapping up, having quality equipment can help you in achieving great stability, control, and functionality. Here, having an Abu Garcia spinning reel is an ideal choice for any angler who desires a functional product within a decent price range. There are a variety of options in this collection from where you can ideally find something that can fulfill your individual requirements.
Based on essential features, here are some recommendations;
Finally, have the best Abu Garcia spinning reel and enjoy the thrilling fishing process.
People Also Ask About Abu Garcia Spinning Reels
1. What is the best Abu Garcia spinning reel?
Abu Garcia Zata spinning reel is one of the highly regarded products among professional anglers that demand high stability, control, and power. This device, famous for its spool-lip design and unique magnesium construction quality makes it one of the best. Apart from this, the Carbon Management System and a braided spool offer you great control.
2. What is the best Abu Garcia spinning reel for money?
Abu Garcia Orra S is one of the best options if you are limited to a budget and want something that can help you with phenomenal efficiency. This device comes with aluminum construction and a lightweight design that helps you throughout. Coupled with this, the Carbon Matrix System offers you great efficiency in terms of a smooth retrieval and better cast.
Related Spinning Reel Guide:
Top Steelhead Spinning Reels Review