Surfcasting is a skill that demands a piece of equipment that is able to provide strength, power, and dragging ability. Most anglers find surfcasting extremely difficult because it involves resistance against weather, water conditions, and friction.
Here, conventional reels are considered a popular choice before baitcasting reels as they have a lesser learning curve. If you are in the process of buying the best conventional reel for surfcasting, here are some of the popular reviews based on drag, strength, and power.
Related: Best Conventional Reels For Bottom Fishing
8 Best Conventional Reels for Surf Fishing
Best Surf Casting Conventional Reels Review
The absence of the casting distance in this model absolutely assists you in surfcasting with absolute ease and precision.
Lastly, this Star Drag fish reel is specifically designed for surfcasting with a slight edge in the drag system that provides more accuracy while you are catching the fish.
This reel further incorporates anti-reverse bearings that prevent the spool from spinning after every revolution.
2. Daiwa SGT50H – Conventional Casting Reel
The spool is made up of anodized aluminum that offers a lustrous finish and makes it resistant to damage and corrosion.
Last but not least, the reel is designed for longer and precise casting with its corrosion-resistant ball bearings. The bearings are made up of CRBB (better than regular steel) and offer great grip while you are on your way to cast a fish.
3. KastKing Rover – Conventional Surf Casting Reel
Here, it also comes with a carbon fiber drag system that is able to withstand weight up to 30 pounds in rough conditions.
It is also worth noticing that it is a versatile reel out there that can be used for different techniques such as bottom fishing, trolling, and surfcasting in freshwater and saltwater with absolute precision.
In the end, the design also comes with super smooth stainless steel 6+1 double ball bearings that provide you with reduced friction and an efficient process overall. Also, I really like the ergonomics design that is able to catch heavy fish with a perfect grip and a large handle.
4. KastKing ReKon – Best Conventional Reel For Surf Fishing
It further comes with a line clicker function that allows you to release the planer easily. The only downside I feel in this model is its plastic frame that is not the most durable but is decent for still waters.
Talking about the retrieval ratio, this one comes with a 5:3:1 gear ratio with 33.5 lines per turn, which makes it ideal for catching small fish with high speed and precision. All in all, it is a great product with all the essential features that serve you well.
5. Daiwa Sealine X SHA – Conventional Reel For Surf Fishing
In comparison to other models at a similar price, you will find this one smooth and efficient with CRBB bearings that keep the process in control with stability and balance.
In the end, the drag system is a six-element seal that provides you with consistency and allows it to carry heavy loads. Speaking of the spool, it has a waterproof, free-floating, aluminum spool that helps you in reducing the overall friction and provides high speed and long cast ideally.
6. Okuma Cold Water – Best Casting Conventional Reel
Further, it has a gear ratio of 4:2:1 that might not be the best but is effective if you are a beginner. One of my favorites in this model is Clear View Technology CVT, which is designed particularly to prevent the loss of vision. Hence, you can ideally use this in tricky situations.
Last but not least, this reel comes with a brass gearing system that offers a fast speed that not only saves time but also helps you in catching tricky species. It also features self-lubricating characteristics with a full-speed lock system that works precisely with absolute ease.
The manufacturers have included a braided spool and improved mono line capacity that works perfectly well in tough conditions. Also, it has a graphite frame that makes it highly durable and serves you in the long term.
Finally, the design incorporates stainless steel bearings in addition to a gear ratio of 4:1:1 that is pretty decent for saltwater.
It also has a retrieval rate of 32 lines per revolution that makes it efficient for tough conditions. For me, the highlight of this model is the aluminum spool that offers a high capacity.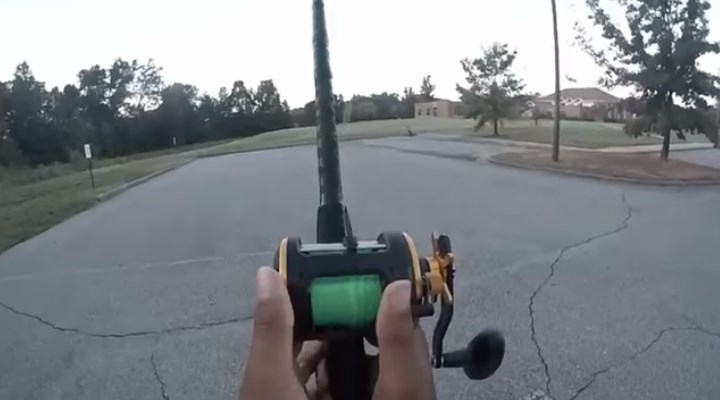 For a long service life, the manufacturers have added a lightweight graphite frame that provides you with durability and ease.
Lastly, it comes with a carbon fiber drag system that is able to withstand 37 pounds easily. For retrieval rate, it offers exceptional performance with a 6:2:1 gear ratio that is absolutely efficient for dragging heavy fish.
Level Vs Star Drag – Which Is Better For Surfcasting
Level wind plays a major distracting role while surfcasting. You will experience friction drag while doing a heavy casting with giant lures and baits. You must have a reel with a robust drag system that can pull off the friction while maintaining a smooth drag.
Lever drag reels are heavier than star drags because of the larger diameter of drag's washers. So, the casting distance is shortened, and there are more backlashes. It will make surfcasting very problematic, especially if have just started. So, it is better to use star drag reels for surfcasting as the star-shaped wheel makes the adjustment more feasible for the anglers.
How To Choose The Best Conventional Surf Casting Reel
Choosing the best conventional reel for Surf fishing can be a complicated process, but I will make it simple. Firstly, I would prefer to say that the best reel is the one that suit's your circumstances.
Choose the reel which has,
Excellent ability to cast, suitable for weather or wind conditions.
A smooth, non-restrictive, reliable and outstanding drag system makes it easy to adjust tension.
Wide spool and line capacity. The reel must allow you to handle dwelling fish and sharks.
Corrosion resisting properties.
Good light for casting quickly.
Things you must consider while buying the conventional or surf casting reel,
Casting Distance
In conventional reels, casting distance is very significant. The anglers for surf casting require a lure on distant species. It demands accuracy. For a long cast, the reel must have greater line capacity, super-fast bearings, casting breaks, floating spindles, and high-speed retrieve.
Power
As for casting a larger fish, it's essential to know that water pressure is high and puts a lot of stress on lines. For this, a smooth drag system is vital to maintain tension.
Durability
Reel made up of high-quality material must be durable.
Have you listened? Does corrosion kill the reel?
Yes, it's right. Take care of your reel, oil it, maintain it and specially buy the one made up of the best quality.
Final Thoughts On Best Conventional Reels For Casting
These conventional reels are considered a great option to go for surfcasting as they are highly efficient and involve a low learning curve. Additionally, these are known for their power, strength, and drag capacity that can withstand tough conditions.
From the above-mentioned list, here are some of my favorites;
Finally, based on these reviews and your requirements, you can choose the best conventional reel for surfcasting.
Frequently Asked Questions About Conventional Surf Casting Reel
1. What is the best conventional reel for surfcasting?
Penn Squall II Star Drag is one of the best conventional reels for surfcasting as it has all the essential features that serve you. It is known for its low cast distance and a heavy drag system that makes it suitable for resisting the weather. Furthermore, it is a popular choice across the market for its suitable drag ratio and line capacity that works in harsh conditions.
2. What makes a good surf fishing reel?
There are a variety of elements that you require to get a surf fishing reel. To start, it is important to have something between 3000 and 4000 for size. In addition, you should also look into the power and strength that can be determined by the drag capacity and the gear ratio. Lastly, make sure your reel is corrosion resistant and has a lightweight design.
3. How to surf cast a conventional reel?
To do surfcasting, you should start about five feet between the lure and rod tip. It is also important to consider whether you are right or left-handed. If you are a right-hander, you should widen your feet about the width of the shoulders and start at the beach from the right. Now, when your rod is high, you can start to lure and carry it up until you get something stuck. After this, you can rotate your upper body and carry out a relaxed movement.