Most young anglers lose control over their cast after nymphing for its first catch either in still-water or fresh-water. Have you ever felt stressed to get a successful retrieval after fly casting, especially when doing euro-nymphing? One of the main reasons is not using the right rod for this technique.
So, in this guide, we have shared our 5 best euro nymphing rods for you and a precise buying guide to give quick know-how of what to consider before buying these rods.
Related: Top Saltwater Fly Rods Review
Comparison of 5 Best Euro Nymphing Fly Rods
IMAGE
PRODUCT
features
Price

Extra Rod Tip
Titanium Frame SiC Stripping Guide
AAAA Cork with Burled Ends

Medium Fast Action
Sophisticated Balance
 Lifetime Warranty

Perfect For Young Anglers
Smooth Performance
Affordable

AAA Cork Handle
Cordura Rod Tube
Smooth Guides

Fast Action
Extra Extension Section
Super AAA Grade Cork
Best Euro Nymphing Rods Reviewed
Our first pick has to be this Epiphany Series from the Moonshine Company. After going through many hits and trials using variable rods, we have chosen this as our top pick for the best euro Nymphing rod. The best part is you can use this rod to start your fishing journey from small creeks, and it will stay with your pro-big-game angling.
It consists of high modulus carbon construction that gives strength and durability. Also, its efficient construction technique assures that the rod is firm yet lightweight. This feature allows you to have the confidence of dealing heavy cast at a longer distance with ultimate ease.
Moreover, the handle design-assist casts better as the reverse well style gives a more firm grip over the cork handle.
Another amazing benefit is that in case of any emergency you already have your backup for casting heavy lures. However, the in-built tip is so sensitive and reliable which can easily handle the big lures to land big catches. You will see the white dots to aid the proper alignment of this 4-piece rod.
In addition, this rod has 13 guides, and each piece's guides differ in weight and thickness to maintain the flow while casting.
As this rod can handle giants, you should use heavy-duty lures and lines to accommodate the stress level all over the rod. So, we suggest you use a heavy-grade reel that sits well on the reel seat.
It is worth mentioning here, like all other traditional nymph rods, this rod also has a double lock setting. The downwards locking configurations help attain the rod's balance with the reel. You can use a three-way double tape floating line of 20 feet and a 5x or 6x tippet.
Leaders' construction and selection of flyers are crucial steps for a successful land. We suggest you go for 2x leader for this Epiphany rod to keep you safe from this hustle.
Moreover, the heavy butt of this rod makes back fighting easy. It gives you an accurate anchor point at a high angling level, and secondly, it keeps the reel away during fish fighting, which is another plus.
Pros
Budget pick
Perfect for all anglers
Heavy-duty rod
Sensitive tippet with an extra one
Good for medium-sized fish
Cons
The delivery rate is slow
Not good for long-distant casting
In summary, we can say that you can enjoy almost all the features of a luxurious priced-rod at such a reasonable cost. Pro-anglers also use this rod as a backup rod for heavy fly fishing. Although it is only suitable for casting distance up to 30 feet and not good at large casts, its other tremendous features make this downside coverable.
Echo rods are the best choice for nymph fishing because they have all the features that allow you to do efficient casting and more landing than other usual rods. You can also use it as traditional tenkara rods. Due to its adorable performance and durable quality, it is one of the best euro nymphing rods.
It has become an angler's favorite, starting with the solid in-built and potent compatibility with different reels and fly lines. It is 10 feet long rod with two different weights. Our suggestion is to start with 3 wt. rod.
It is an ultra-sensitive rod that alerts you whenever there is a successful cast. It lets you feel the fish-eating which is a big plus, especially if you have just started.
This 4-piece setup is easy to carry and light in weight. Echo also offers a euro nymph rod in 9 feet. But after many trials, we suggest you go for 10 feet rod because its sensitivity and lightness are exceptional, and you feel no burden on your arm and shoulder even if you use it for a whole day long.
It is not only suitable for trout and bass but also you can use it for light saltwater fishing. In addition, you can use this rod for throwing long loops beautifully and use it for fly fishing as well.
Echo offers a compatible reel set for this rod that fits perfectly to make it easy for you. Moreover, the reel seat's locking features give more accuracy and grip to the rod. This rod is all for well-maintained balance, heavy leader, and highly sensitive tippet. With this rod, you can use the Echo-flying line and the 11-12 feet long with its leader. All these features end up being the best setup for nymphing.
If you want to try luring a line other than Echo, you can use a lure line with 5 wt. Also, you can use a fluorocarbon line or any monofilament casting line as a leader. Usually, 18 feet long line is used for nymphing, but you can use the lure line of 12-14 with this rod for more tight line casting.
In addition to its remarkable features, the Echo Carbon XL rod has a slightly extended butt that gives a firm grip and monitors the balance all over the rod.
Pros
High-quality carbon rod
Easy to set up
Heavy-duty ceramic guides
Well-balanced
Perfect for beginners
Cons
Prone to corrosion
Not good for large species
In conclusion, Echo Carbon XL Nymphing is the definition of class for euro nymph fishing rods because of its quality, performance, and output. This rod is an absolute joy to start and an ultimate treat for pro anglers. Though rod is not good for long-distance casting, euro nymphing means shorter casting, fulfilling the cause and giving a precise yet accurate casting experience.
3. Orvis Encounter – Euro Nymphing Rod And Reel Combo
Our 3rd pick for the best euro nymphing rod is Orvis Encounter rod and reel combo. We have chosen this product because of its supreme-quality design, robust action, and extreme performance. Also, this rod is a sweet treat for beginners. It minimizes the hustle of finding the perfect fit for the rod.
It is worth mentioning the features of rods and reels individually to get a clear picture of this combination.
Firstly, the rod included in this outfit is 5 wt. and 9 feet in length. So let us clear that Nymphing is done best with a 10-11 feet rod. But we have added this 9 feet rod because it is good for entry-level nymphing anglers to start their euro-style fishing journey
Also, the lightweight and smooth casting makes it the best pick for beginners. It also contains a graphite blank with a cork handle like other high-end rods. Moreover, the guides are aligned properly at a certain distance to maintain luring with great accuracy.
Another amazing feature of this rod is its firm grip and absolute sensitivity. Despite this rod being a 4-piece setup, it gives a smooth spool over the cast without malfunctioning once it's assembled.
Orvis rod gets thinner from the handle to its tip, where it has a sensitive tippet best for euro-nymphs. It gives a considerable flex while casting, making the catch more feasible for the angler.
Now talking about the reel, although it is made of plastic, it is very solid and strong. This durable 5 wt reel is the best fit for this Orvis rod. Orvis outfits come in variable weight ranges from 4 to 8. You will find the rod and reel of the same weight to balance the cast evenly.
The line spooled over the reel can be used as forwarding lining or backing. But as nymph fishing requires the forward line to go upstream for the successful catch, use the floating line in the forward direction.
Some other fascinating features of this Euro Nymphing Rod and Reel combo outfit include switching the reel on either side, i.e., right-hand or left-hand. It all depends on your comfort level and ease. Likewise, you use the leader provided with this outfit as sinkers to catch the fish.
You can use this rod for fairly large distance casting-unusual of nymph fishing rods. But we suggest you use short-distance casting for more accurate luring.
Pros
Best budget combo
Good for young anglers
Higher flex rod
In-built style supports long casting
It can be used as a fly fishing rod
Cons
Reel may break
Not good for large species
To summarize, it is a basic setup to practice a euro-style fishing journey with absolute compliance. You can use this rod for light saltwater fishing as well. But it is a very good deal to test your angling skills, improve back fighting tactics, and last but not least, allow more sensitive strikes. It does not offer more or less that you ask for a starter nymph fishing.
Maximum-catch is a must-try when experiencing different styles of fishing rods. It is known for its long-lasting rods that provide maximum strikes with absolute accuracy. This rod is also one of its true examples for you. It is one of the best picks for euro-style nymph fishing, especially if you are new to this fishing technique.
The robust color blanks give a smooth experience for anglers. It is due to its solid construction consisting of 5 different layers of carbons.
This rod is the epitome of perfection for beginners as it provides well cast at a shorter distance which is the plus of the nymphing technique.
The sharp look with exceptional performance at such a reasonable rate is not less than a blessing for anglers.
Moreover, the Maxcatch nymph rod allows you to cast heavy flies with light tips assuring more successful lands-the benefit of euro-nymph fishing.
This 10 feet long rod has medium-fast action and is good for fairly large fish up to 16-21inches. You can use the big leader of 21 inches to fit the big games perfectly. Although this rod is suitable for short casting, it provides the heavy backbone to cast for large trout and other species.
It contains heavy-duty guides made up of ceramic and stainless steel snake guides. Although these are the best guides for nymph fishing, the rod tip last guide is fairly large. Due to the wider hole, the line falls back into the guides, increasing the chances of tangling and losing the casting accuracy. But if you want to avoid this, you can tie the larger infinity loop to connect it with your leader.
A firm grip assures the max-catch performance of this rod due to the cork handle. Also, it has the up-locking configuration on the reel seat to ensure the right adjustment of the reel.
You can use bobbers or small flyers with this rod. But it depends on the environment you want to fish, the type of species you want to land, and the leader and flies line selection to maintain the balance. These factors combine to make you a successful and achievable euro nymph fisher.
Pros
Good rod for the price
Durable construction
Best for all fish
Firm backbone while angling
Travel-friendly Cordura packaging
Cons
Heavy
The last guide is fairly wide
To sum up, the M Maxcatch is the best entry-level euro nymph fishing rod that allows you to try this unique fishing method with ultimate ease. Another amazing fact is that you will get high-end quality constructed rod at a much fair price. You can practice the different angles at variable lengths to improve your casting and become a pro. All-in-all it is a good deal.
If you are looking for a rod that is fast in action and easy to get along with, this Aventik Z fishing pole is the right choice after going through 50+ reviews that have only good things to say about this rod. We have to give it a shot, and we are so happy with the outcomes. Here are the winning features of this rod.
It consists of all the features present in high-end rods, but what makes it budget-friendly is its intelligent manufacturing method.
You can enjoy the best quality in-built rod at such a reasonable cost because the manufacturers import the different materials from top-leading countries, which makes it cost-efficient and best performance at the same time.
Talking about the heavy-duty blanks of this rod that are made up of multi-positioning technology and Nanoparticle to give the lightweight, heavy-action, and long-lasting blanks.
Although this 4-piece rod is 10 feet long still, it is so light in hands that it allows you to cast smoothly with perfection. Its titanium guides provide tight line casting making the angling more price and successful.
In addition to that, the A+ quality cork handle gives you the best nymph experience as the well-maintained balance is the key to euro-style fishing. This rod is sturdy enough to handle big-game fishing while equalizing the stress all over the rod. Thus it maintains a good balance from casting to catching or landing a fish.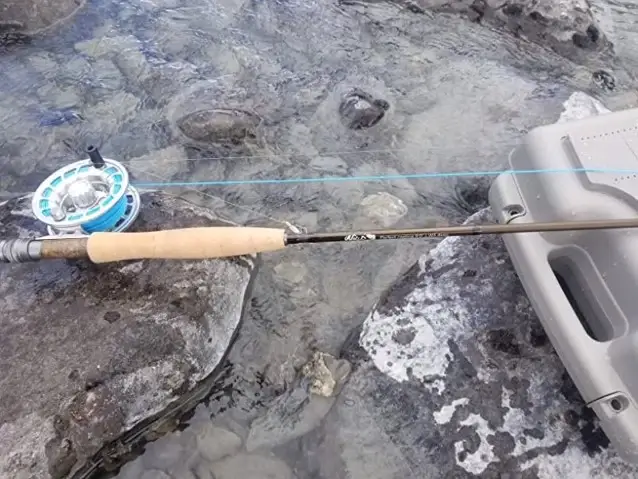 You can use a nymph to attract the trout and use a leader of 12-14 feet to support the heavy lure with a sensitive tippet.
Usually, nymph rods are good for short casting, but you can use this rod for long-distant casting. This fly rod contains the dot alignment feature assuring the least chance of an unpleasant experience. Streamers use this upstream rod for ponds, rivers, and lakes.
Pros
Best 2-in-1 rod
Reasonable price
Good for short distance casting
Best for creeks, bass, and trout
Ceramic guides ensure tight line casting
Cons
Too long for smooth back fights
Requires heavy reels making it heavier
To summarize, having a versatile rod at a reasonable cost is always a pleasure for anglers. The Aventik-Z is a multi-purpose rod that can benefit you in many fishing techniques using variable but right reels and lines. You can have this rod as a backup for big-game fishing, or you can also use this rod to practice different angling or nymphing methods to become a pro angler.
Guide To Pick The Best Euro Nymphing Rod
Before you go through our top picks, we were hoping you could read these few points that will help you to make a wise-buying decision to get your best euro-nymphing rods.
We have mentioned the 3 main pain points and their reasons for euro-nymphing. To use this technique, you should look for these features in a rod for successful landings.
1. Tippet Sensitivity
It would be best to go for a rod with sensitive tips. The main reason for this because as soon as the fish starts eating the bait, the sensitive tip will alert you about the fish presence. You can quickly grab the catch before it's too late.
2. Heavy Leaders
Always go for monofilaments or fluoro-carbon lines of 11-12 feet long as these lines are good to handle heavy fights and play a pivotal role from casting to catching the fish. You can also use floating lines to avoid tight line casting whenever necessary.
3. Good Balance
It is the backbone of the euro-nymphing. It would be best to look for the rod with a solid grip, heavy-duty handle, and robust reel set to maintain a well-balanced casting for a positive lead.
It is very important to monitor a good control over the cast for a successful delivery using nymphs for long casting. So go for the fly rods having high quality in-built to provide strong support to cast.
Frequently Asked Questions About Euro Nymphing Rods
1. What weight is best for Euro Nymphing?
You can go for 3-4 wt. rod for the best euro-style fishing experience. These rods have the best sensitivity with supreme quality in-built. These rods make the nymphing easy and more favorable for anglers when doing in deep water.
2. What makes a good Euro Nymphing rod?
A good euro nymphing rod can be defined as having extremely sensitive tips yet strong enough to carry heavy lures for big-game fishing. In addition, the rod must provide good balance while casting, retrieving, and landing.
Last Thoughts On Best Euro Nymphing Rods
Euro nymphing has taken up traditional fly fishing because it is a more easy-to-handle and successful fishing technique. But, these techniques get to keep on updating, so you never know the next upgraded fly fishing method that might replace euro-style fishing.
To keep you away from the hustle, we have short-listed our top3 favorite picks for best euro nymphing rods for you. You can pick one of these to start your nymphing journey.
Moonshine Rod Co: If you are looking for a reliable rod that will stay with you through your learning journey till you become a professional angler, then Moonshine rod is all you need.
Echo Carbon XL Euro Nymph Fly Rod: The echo carbon rod is best for intermediate to advance anglers to experience the best euro nymph fishing at the most reasonable price.
Orvis Encounter 5-Weight 9′ Fly Rod: It is the complete outfit you need to start your euro nymphing at ponds, lakes, and rivers. You can also use this combo as a starter pack for the traditional fly fishing technique.
Despite its successful results, not everyone knows about this euro-nymphing technique. So, how did you come to know about this new updated flying technique?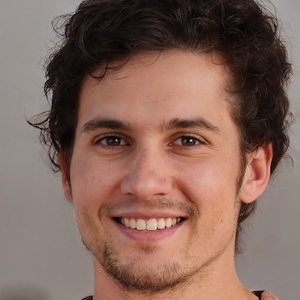 I'm James Smith with many years of experience in fishing. My passion has always been fishing, so I did my bachelor's in Zoology from University of North Carolina – Charlotte. I am always looking to provide fishing tips, tricks and advice for my readers.