For those who are looking for baitcasting reels, this is the right place to end your search. As a fisherman, using a baitcasting reel for fishing not only maximizes your final catch count but also increases your adventure and fun. You will love your fishing day if you have all the aids with you.
And among all of them, baitcasting reels are on topmost priority and importance for an outstanding experience. Baitcasting reels manufactured under the Shimano company are the best equipment for you to have the highest level of adventure.
There are many different companies and brands that are manufacturing baitcasting Reels. Still, here we are talking about the most efficient and quality production house of baitcasting reels which is SHIMANO Baitcasting Reels.
Keeping this contribution in mind, we have concluded the five best SHIMANO Baitcasting Reels with high-performance levels and positive reviews. Once you start using the SHIMANO reels, you will get the best fishing experience with maximum fun and adventure.
Related: Best Baitcasting Reel For Catfish
5 Best SHIMANO Baitcaster Reels 2022 Compared
IMAGE
PRODUCT
DETAILS
Price

Long Term Value
Ideal For Both Freshwater & Saltwater
Smooth Drags

HAGANE Body
Super Free Spool
Micro Module Gear

S3D Spool
Hagane Body
13 Shielded Ball Bearings

Cross Carbon Drag
Infinity Braking System

HAGANE Body

Super Free Spool
Zero Friction

Stable Spool
Best Shimano Baitcasting Reels Review
Here is you can read our complete review on top Shimano baitcasting reels. Keep reading.
Versatility in functioning, long-lasting quality, and efficiency in performance, all three of these are the characteristics of this SHIMANO Calcutta B Round Baitcasting Reel. These reels can be used in freshwater and saltwater without any damage to them.
These reels are ideal for those who are looking for versatility and durability with performance efficiency.
One Anti-Reverse ball bearing is present in the reel, which is composed of stainless steel construction, making it more powerful and robust.
The reel is constructed with an aluminum alloy metallic body and frame, making it highly strengthened and strong to use for long-lasting years. The Dartanium drags the movement and operations of the reels smoother and planer without any roughness.
Moreover, this metallic body not only makes the reel perfectly aligned but also makes it super durable and beautiful from the outside because of the presence of plating and anodized outer surface.
The Cold Forge aluminum spool enhances the overall functioning of the reel by providing the reel more strength and energy in terms of movement.
There are three ball-bearings present in this SHIMANO Calcutta B baitcasting reel which are constructed by keeping in mind the anti-rust property that increases the life of the whole reel.
The overall weight of drag which this fishing reel can carry is between 9.5 to 16.5 lbs. Furthermore, there is a large variety of sizes available to select the best according to your need.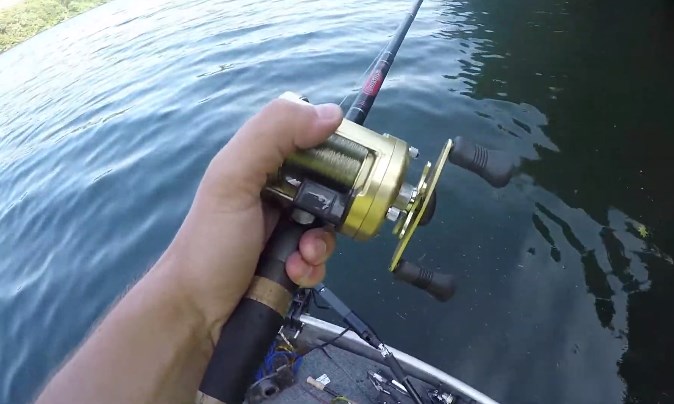 The reel is renowned for its versatility and firm performance. It keeps on giving efficient functioning even after many times of use. It is constructed with aluminum metal to make it more durable. The drag can carry a large amount of weight without any disturbance in smoothness and movement. Moreover, there are many sizes available for you to select the best one for you.
2. SHIMANO Curado K – Cheap Shimano Baitcasting Reel
Shimano Curado K is another excellent baitcasting reel in our list, which is famous for the reliability and strength it contains in its performance. The reel has HAGANE Body which gives the absolute stiffness and rigidity, making the reel body unable to flex during use.
Moreover, making this baitcasting reel is highly long-lasting and durable for long-term use.
The feature which makes this SHIMANO Curado K Baitcasting Reel unique and demanding is its Micro Module GEAR system.
This system consists of many and minute pointed tips on the reel's gears, making it smooth to move and retrieve. This gear system also contains bearings on both rear gears, making the alignment more precise and accurate. This results in strong control over position even after the gears are dealing with heavy loads.
The brake and spool are very convenient to control and manage. You can easily and quickly make adjustments through a simple changing knob located externally to the reel.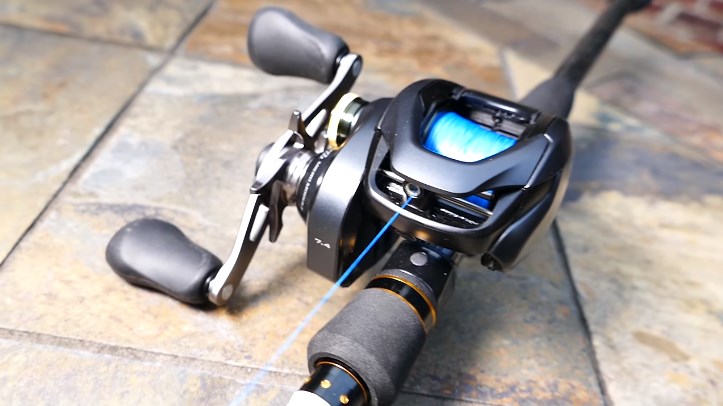 While casting, you will not experience any friction because of the presence of a super-free spool, which is supported by ball bearings. Then we have one roller bearing present with an anti-reverse feature giving the fisherman quick stopping from reverse movement.
This reel is super light in weight and highly more muscular compared to other Shimano reels. With an estimation, we can say that this baitcasting reel is more than one and a half times stronger and 20 percent lighter than other reels of the same brand. This lightweight feature and strength of the reel make the movements of the reel more aligned and perfect.
This SHIMANO Curado K Baitcasting Reel is perfect for anglers who look for strength and versatility in their reels. This is an easy-to-use tool and is light in weight, making itself easy to carry and use for long-term functioning. This reel is super strong and provides effective control over heavy loads.
This Shimano Fishing SLX MGL 70 XG Low Profile Baitcasting Reel is also constructed with HAGANE metallic body. This provides you with a solid and rigid body to increase its longevity as this reel is super rigid, so it does not allow any flexing, which results in the energetic functioning of the reel.
When using this baitcasting reel, you could get perfect stopping power because it consists of a cross-carbon drag system.
There are five ball bearings present in this product among which, one is the reverse ball bearing. This reverse ball bearing helps in the elimination of the backlash of the reel.
This baitcasting reel also consists of an SVS infinity braking system. This braking System works in perfection so that it would increase the casting distance. You can easily make multiple adjustments with a simple plate to match different conditions of weather.
Moreover, Shimano Fishing SLX MGL 70 XG Low Profile Reels can carry a maximum of 12 Lbs of drag with its robust cross carbon drag system.
The MGL spool Technology of this baitcasting reel is reliable and trustworthy as it's excellent in the casting of every kind of lure, including the heavy and lightweight both. The size of the baitcasting reel is made compact and easy to carry. It doesn't contain much of your space and can be fixed in any small bag.
This baitcasting reel is constructed in a compact size with a light in weight feature. It consists of a cross carbon drag system and HAGANE Body Metallic construction. I have noticed that this reel is compelling and intense in construction, and efficient in functioning because many reviewers say that this reel is very durable.
The HAGANE BODY in Shimano Calcutta Conquest Baitcasting Reel provides a high level of strength and efficiency in performance with long-lasting durability. This diminishes the flex in the body even after carrying heavy weights and fighting with aggressive species.
There are 13 ball bearings located in the reel with one reverse ball bearing to avoid any backlashes.
This became possible because of the presence of S3D pool technology in the reel.
There is this micro module gear system in the reel, which provides the gear with pointed teeth, which are more in the count and are significantly smaller in size, providing us with the larger area for smoother retrieving.
There is also the presence of X-Ship Technology to give you long-lasting gears functioning because of ball bearings at the rear gears. This feature diminishes the friction and precisely accurate alignment to deal with Bulki loads and tough fights with the fish you have caught.
The ball bearings fixed in the reel are covered and protected to make sure the dust and rust do not affect the performance of the ball bearings.
You will experience smooth retrieve plain casting without any unnecessary vibrations and movements when you use this bait caster.
This baitcasting reel consists of the latest technologies with 13 shielded ball bearings and one reverse ball bearing with durable gears. The body is a HAGANE body which makes the overall performance and construction super strong and powerful.
This SHIMANO SLX DC also consists of the HAGANE metallic solid body, making the overall construction solid and sturdy. This construction is renowned for its rigidity and stiffness.
Moreover, the gain body minimizes the flexing of the reel even after dealing with heavyweights.
This baitcasting reel consists of the latest technologies built-in, such as S3D and Super free spool. This is S3D technology that minimizes unnecessary spool vibrations.
This spool is made of aluminum construction, making the overall performance of the reel efficient and smooth without inadequate and unnecessary movements.
Another reason I selected this in the top 5 baitcasting reels is its zero friction feature. This is made possible because of the presence of a super-free spool which makes the movement of the spool frictionless and minimizes the friction effect while casting the reel.
Moreover, this feature is also responsible for providing and keeping the reel in perfect alignment.
Another technology that makes this outstanding is SVS infinity technology. This technology is fixed in the brake system of the reel, making it easy to operate and manage the force fisherman applied on the brake and control it provides on the spool.
It is designed with the use of the latest technologies in it. It consists of a zero friction feature which allows the spool to fall freely without the production of friction. Moreover, it is renowned for its rigidity and stiffness, which maximizes its strength and performance.
How To Choose The Best Shimano Baitcasting Reel
Shimano comes on the list of top brands of fishing manufacturers. The baitcasting reels of Shimano are worth considering.
Selection of the reel is only up to you. When you wish to select the perfect reel, you need significant knowledge about it.
The factors to consider while buying the best shimano baitcaster reels are,
Inches per turn: It refers to the elongation of the line spooled for each handle rotation. The IPT should also be more like a gear ratio.
Gear Ratio: To reel the line swiftly, you need a high gear ratio, especially for the lure of live bait, jigs and jerk baits.
Drag: Selection of drag is directly linked with the angler's demand for fishing. Set or take the drag suitable for the larger fish you are targeting.
Bearings: The bearings are essential for the reel to function smoothly. Baitcasting reels have more ball bearings than spinning reels; choose the best.
Braking: Braking systems are also introduced in the new baitcasting reel. These brakes control the lines coming off. Prefer the reel if a braking system is present.
Handedness: If you are working with a left-hand spinning reel and moving towards buying a baitcaster, you must prefer a left-handed reel and vice versa.
Why Are Shimano Reels So Good?
These reels are considered one of the best choices for fishing. It is because of several unique features of Shimano reels. These are:
Go-to Reels for Finesse
Shimano baitcasting reels are all about finesse for a better casting experience. These lightweight reels provide the appropriate precision and control to lead to a successful smooth catch.
Easy-to-handle
Shimano reels are also easy-to-handle and ensure a user-friendly experience like other baitcasting reels. These reels offer more adjustment options making them a more user-friendly choice.
Durable and Reliable
Shimano reels are known for their extremely durable nature. So, these reels will last forever with good maintenance. It assures its reliable nature and strong performing ability.
Types of Shimano Baitcast Reels
Shimano has a wide range of spinning and baitcasting reels for your perfect fishing experience. There are two distinctive types of Shimano baitcasting reels.
Shimano Baitcasting Feels For Freshwater
Shimano offers low-profile baitcasting reels for freshwater fishing with aluminum, making it sturdy and ultra-lightweight. So, it provides more finesse than saltwater ones. These include Bantam and Aldebaran BFS as the best ones.
Shimano Baitcasting Reels For Saltwater
Saltwater fishing demands heavy reels to carry out serious yet giant fishing with a comfortable and sturdy setup. Shimano CU300K Curado baitcasting reel is the best choice in this regard.
Shimano Old Vs. Shimano New Reel
As you know, Shimano is one of the top brands, and you will see it always struggling to bring innovation and evolution to the World of fishing.
If we compare the Shimano new reels with old ones, we will encounter they had pretty improved.
Shimano New reel (Stradic Range) features,
Silent Drive
Long Stroke Spool
Micro module Gear
You have never seen these qualities in Shimano's old reel. The new reels introduced by Shimano have improved casting, durability, and smoothness in reeling.
The old reel (curado) has less durability and ability to cast than new reels.
How To Care and Maintenance of Shimano Reels
Care and maintenance of things are integral part to give life to them. Similarly, Shimano reels need care and maintenance.
Following are some tips and tricks for enhancement of their life:
Necessary
To avoid unexpected surprises during fishing, you need to continuously carry out its basic maintenance after a specific timeframe. It will advantage in fishing tackle.
Prior to fishing
Except for necessary maintenance, it is better to satisfy yourself before pouring the reel into water for fishing to avoid any untoward incident.
You should check reel running, handle and drag system. It is highly recommended to use one drop of Shimano Bantam oil for port before going for fishing.
Subsequent to Fishing
When do you free from fishing, make it your habit to clean your reel to avoid rust, causes by dust, sand and dirt.
You may use soft cloth and fresh water for this purpose. It is prohibited to drench the reel into water.
Final Thoughts On Best Shimano Baitcasting Reels
Many of the fishermen spend a handsome amount of money on their tools and aids. They always want the best product to maximize their fun and adventure. Moreover, if you have good quality products and tools during fishing, you will experience better adventure and entertainment. We always recommend selecting the best products to have the best experience.
As a reviewer, I will recommend you to buy:

1. SHIMANO Calcutta B Round Baitcasting Reel as these reels can be used in both freshwater and saltwater and you can rely on their durability and versatility. Stainless steel and aluminum alloy metal construction make the reel strong and super smooth to work.
2. SHIMANO Curado K Baitcasting Reel is made with HAGANE construction which makes it rigid and does not allow flexing. It also contains the latest technology, such as micro module gear systems.
3. Shimano Fishing SLX MGL 70 XG Low Profile Baitcasting Reel is strong and durable. Five ball bearings and a cross carbon drag system make the drag smooth and refined to work.
Read and understand the contents thoroughly so you would be able to make the best choice for yourself. Furthermore, focus on what you need and what are the characteristics present in the selected baitcasting reel. If you think this both matches, then purchase the selected baitcasting reel.
Frequently Asked Questions About Shimano Baitcasting Reels
1. Are SHIMANO baitcasting reels good?
Shimano is among the best brands that make baitcasting reels. These reels are constantly reviewed very positively and are renowned for their durability and efficiency in performance. Moreover, these reels contain the latest technologies and are considered the best baitcasting reels in the affordable range.
2. Are expensive baitcasters worth it?
It has been noticed generally that expensive baitcasting reels consist of better features and characteristics that you need. Moreover, for better quality and efficient performance, you can buy an expensive baitcasting reel. These reels are worth buying if you use them more often.
3. Why are baitcasters better?
Baitcasting reels are used for longer casting and dealing with heavier lines. They can manage the heavy lines more conveniently when compared to other spinning reels. Baitcasting contains a better braking system and other features which are helpful in fishing and make your gaming more fun and adventure.
4. Are SHIMANO reels affordable in Japan?
The locations and shops where the Shimano reels are sold in Japan are legally allowed to discount their customers. The discount at times exceeds 25 to 30% in Japan. Moreover, the US does not allow discounts for their customers.
5. What does DC stand for in Shimano reels?
It stands for digital control braking System. This system is built in the real which is responsible for tracking the spool speed a thousand times per second. After analyzing the speed, it is also helpful in applying the perfect brake amount and covering the specific distance.
6. What kind of baitcaster should I get?
If it is the first time you are buying a baitcasting reel, you should buy a mid-range reel, not very expensive and not very cheap. Go with a mid-speed gear ratio and multi-purpose features, which makes the reel versatile and efficient.
Recommended Gears:
10 Baitcasting Reels For Frog Fishing Review
7 Best Baitcasting Reels Under $150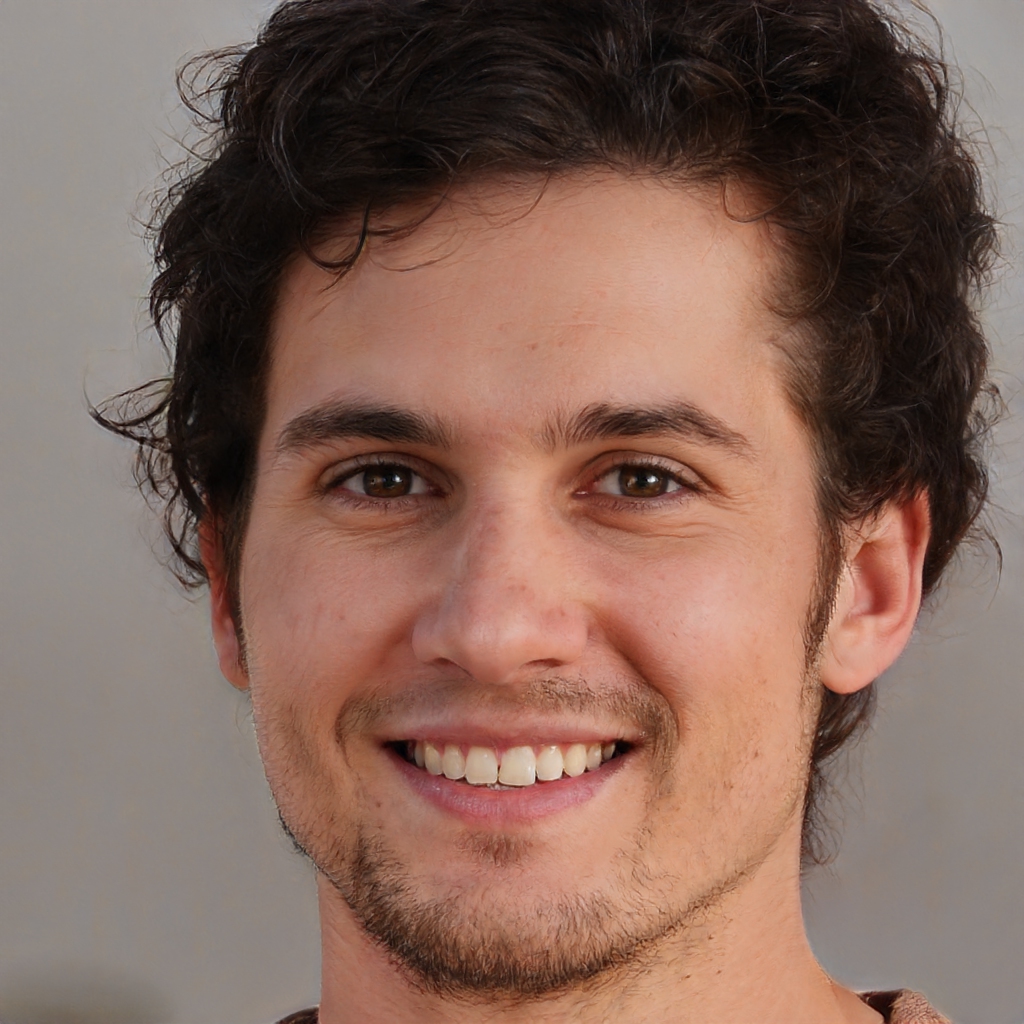 I'm James Smith with more than 7 years of experience in fishing. My passion has always been fishing so I did my bachelor's in Zoology from University of North Carolina – Charlotte. I write about fishing on my blog and I am always looking to provide fishing solutions for my readers.