(updated July 2023)
Smaller fish such as Crappie, Bluegills and Sunfish are often pursued for their delicious flavor and accessible size, making pan-fishing a favorite pastime for many anglers. To catch more of these, the right rod choice is essential.
Importance of Rod Design
A fishing rod designed for panfish is typically shorter, lighter, and more flexible than rods used for larger species. These characteristics allow detection of even the slightest nibble, an essential feature considering the subtle bite of these smaller fish. Rods made from high modulus graphite are generally more sensitive than those made from fiberglass or composite materials, transmitting vibrations better.
Fast-action rods – as these are – which bend primarily at the tip, are typically more sensitive than medium or slow-action rods that bend uniformly along the length of the rod. It is the placement of this bending that makes the difference with this type of rod compared to other rod types.
Finally, thinner rods often provide greater sensitivity than their thicker counterparts, as there's less material to dampen the vibration.
Panfish Rod Optimal Length
When choosing a panfish rod, one of the most important factors to consider is its length. Panfish rods generally range from 4 to 9 feet in length.
A shorter 4 foot rod is ideal for casting in tight spaces and fishing small ponds. The short length allows you to easily maneuver the rod in close quarters. However, the shorter length also limits casting distance.
A longer 6-7 foot panfish rod allows for making longer casts to reach fish on the outer edges of lily pads or structure (things like docks, trees, weed lines, rock piles, etc.) The extra length also gives you more leverage when fighting fish. This helps prevent break-offs if hooked into larger panfish or accidental bass.
The preferred all-around length for versatility and ease of use is typically a 5-6 foot panfish rod. This gives you the benefits of accurate short casting with the advantage of more casting distance when needed.
Consider your usual panfishing situation and target species when choosing the ideal length. But for most panfish anglers, a 5-6 foot rod is the ideal length for optimizing performance and versatility.
| Length | Benefits | Drawbacks |
| --- | --- | --- |
| 4 feet | Easy casting in tight spaces – Good for small ponds | Limited casting distance |
| 5-6 feet | Versatility for most situations – Balance of sensitivity and power – Good casting distance | Can be cumbersome in very tight spots |
| 6-7 feet | Longer casts to reach distant structure – Extra leverage fighting fish | Not as easy to maneuver in close quarters |
Reels and Lines for Panfishing
The choice of fishing reel can greatly impact the panfishing experience. Lighter reels are often preferable for these smaller species.
Spinning or spincast reels are often a good choice for beginners due to their ease of use, while more experienced anglers might opt for an ultralight spinning reel for its superior sensitivity and control.
A thin fishing line (around 2-6 lbs test) will be less visible to fish and reduce the amount of drag in the water, which can increase the sensitivity of your setup, helping you feel bites better.
Panfish Species
Crappie: Crappies are delicious freshwater fish found throughout North America. There are two species: white and black crappie, each with unique marking patterns.
Perch: Yellow perch are small fish often found in cool, freshwater environments. Known for their delicious flavor, perch can grow up to about a foot long, but most caught are smaller.
Bluegills: Known for their distinctive blue or purple "gill," or opercular flap, bluegills are one of the most popular freshwater fish in North America.
Sunfish: This term encompasses a number of species, including bluegills and pumpkinseeds. They are small, brightly colored fish with a laterally compressed body.
The Joy of Panfishing
Panfishing is not just about the final delicious meal. It's about the thrill of feeling a subtle nibble on the line, the art of casting a lightweight lure with precision, and the joy of spending a day at the water's edge.
Panfish are prolific across many water bodies, from small ponds to large lakes and rivers, offering opportunities for anglers of all ages and skill levels to enjoy this delightful form of recreational fishing.
Whether you're a seasoned angler or a beginner, the simplicity, accessibility, and rewarding nature of panfishing make it a beloved fishing tradition.
Panfish Rod Manufacturers
St. Croix: Known for high-quality fishing rods, St. Croix offers a variety of options suitable for panfishing. Their Panfish Series is specifically designed for this type of fishing and is highly regarded among anglers.
Lamiglas: A popular choice as their rods are made and designed in the USA. Their X-11 Ultralight Series are great for this type of fishing.
TFO: Temple Fork Outfitters might be an odd name, but their rods are great quality and backed by good service. The Trout-Panfish series is offered in both one and two-piece spinning rods from 5 1/2' to 7-feet.
Ugly Stik: Ugly Stik rods by Shakespeare are widely recognized for their durability and affordability. Their Ugly Stik Elite and GX2 series offer lightweight and sensitive options that could work well for panfishing.
Berkley: Berkley offers a range of fishing rods, including their Cherrywood and Lightning Rod models, which are affordable and suitable for panfishing.
G. Loomis: For a premium option, G. Loomis offers the Trout/Panfish series, which are highly sensitive and lightweight rods, though they come at a higher price point.
St. Croix Rod Options
As there's such a choice from this manufacturer, here's a handy guide to current models. (image courtesy of their official website)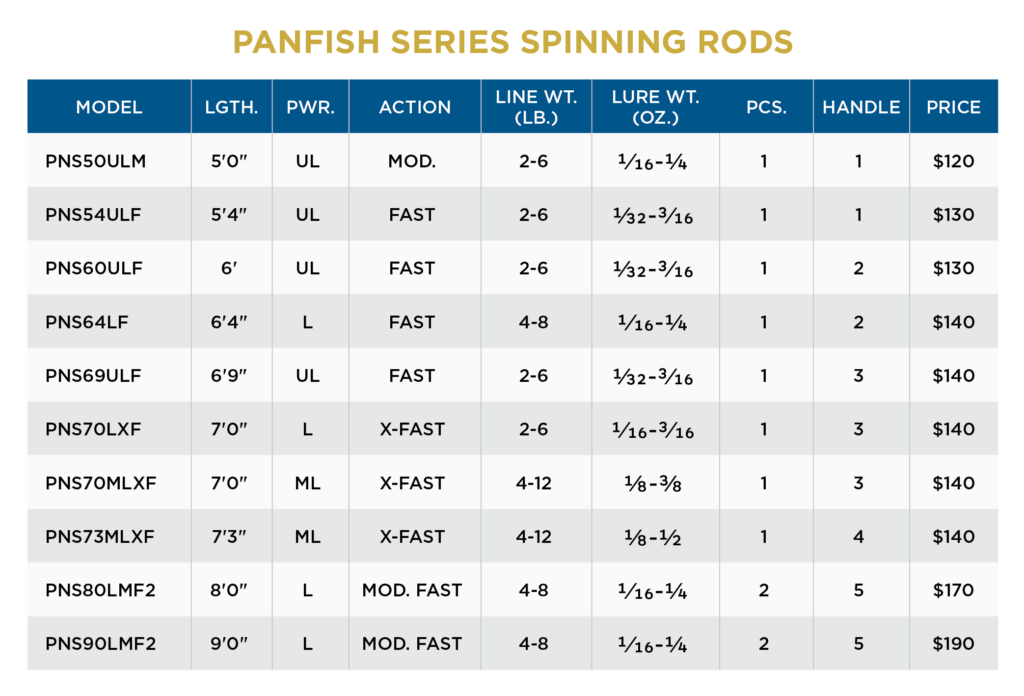 ---
Three Great Panfish Rods
PREMIUM SCII CARBON FIBER CONSTRUCTION: High flexural strength and lightweight; Mid-modulus graphite fiber with a higher strain rate than common fibers; Most popular material that is lightweight, durable and sensitive.
PREMIUM-GRADE CORK HANDLE: Cork butt, mid, and foregrip; Ensure you maintain a strong grip on your Panfish spinning fishing rod as you fight to reel in your catch.
FEATURES: Sea Guide Atlas Performance guides with stainless steel rings and frames; PVD coated tip-top; Sea Guide NPS reel seat with integrated rear nut; Two coats of Flext-Coat slow cure finish.
SPECIFICATIONS: Length – 5'0"; Power – UL; Action – Mod.; Pieces – 1; Line Weight – 2-6 lbs; Lure Weight – 1/16-1/4 oz; Rod Wt. – 2.2 oz.
5-YEAR WARRANTY: Backed by St. Croix Superstar Service.
ULTIMATE SPINNING ROD - The TFO Fishing Spinning Rod is the perfect choice for anglers wanting to insure their fishing success and enjoyment; This Temple Fork Outfitters Rod is a great gift for all anglers.
HIGH-PERFORMANCE FISHING GEAR - Each TFO Trout-Panfish Rod has a soft responsive tip and deep loading progressive taper; They are perfectly designed for casting smaller finesse baits without that common tip bounce of most ultralight rods.
LIGHTWEIGHT - The TFO Trout-Panfish Spinning is an ultralight rod - it weights from 3.1 to 3.7 oz depending on the model; It features light-weight stainless steel guides a cutting-edge weight-saving reel seat and premium cork.
DURABLE & RELIABLE - Every Trout-Panfish series rod is designed and manufactured to deliver uncompromising performance and proven durability; It is a perfect match of high-performance technical design matched to the fun of fishing.
DESIGN - Each Trout-Panfish Series rod includes TFO's moss-green clear coat and gold appointments; Also this rod has polished hard anodized guides the premium court split drips and TFO's skeletal reel seat with a carbon fiber insert.
WHAT YOU GET: Cadence fishing rods offer high-performance premium features at an unbeatable value. Fishing with quality, dependable gear should not mean breaking the bank. Cadence has a reliable customer service team and we will solve any problem you have.
ULTRA-HIGH QUALITY: 30-TON Carbon Fiber Blank: All CR5 1-piece and 2-piece fishing rods are constructed with 30-ton carbon matrix graphite blank offers strongest ,lightweight, durability and sensitivity than other rods. Ideal for game fish including freshwater fish like bass, walleye and trout as well as popular inshore species like red fish, speckled trout and flounder with a rinse after fishing.
SUPER SMOOTH POWER: Stainless steel guides with SiC inserts makes it more smooth and durable, avoids line sticking into the guides, minimizes friction while also enhancing sensitivity by transferring vibrations from the line through the guide to the rod and to your hand.
TRAVEL FRIENDLY: Unique 2 piece design makes it easily and affordable to fit in car, trunk, boat hatch than traditional one piece,but using feel like a one-piece fishing rod ! 2 piece spinning rod allows you to travel to your favorite fishing spot and enjoy fishing whenever and wherever you want.
For pan fishing, ultra-light panfish rods are the most appropriate choice for anglers. The St. Croix ultralight panfish rod is our top choice in this type of rod. They will certainly have the right combination of weight and length of rod for you. Depending on your expertise, you can use it to explore creek fishing up to inshore fishing.
It is not only an ordinary graphite rod, but also it's a blend of super high-modulus SCVI carbon and premium quality SCII carbon. Both of these materials ensure strength and durability without making them heavy.
This rod not only works best for bluegills, sunfish, and crappies, but also lets you catch fairly large bass fish. You can use lures of different weights to experiment with the catch. But we have seen that using a lightweight lure of 1/64 oz. attracts more fish, especially if you use jigs.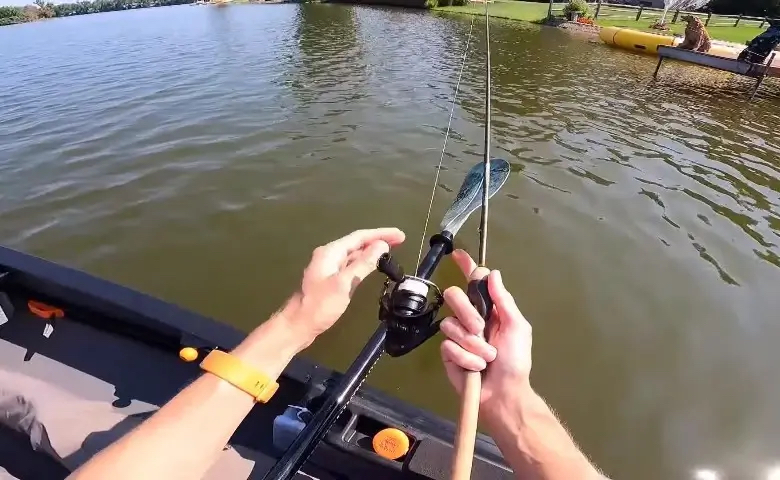 Cadence CR-5 spinning pole is one of the most reasonable rods you can experience. Although Cadence is a young company, its quality poles have made it vital in the anglers list alongside other competitive brands.
To start with, its high-grade 30C ton carbon construction that assures the rod is light in weight yet firm with a moderate fast action pole.
This way, the anglers can easily cast for a longer distance without burdening the forearm. You can catch fish of up to 4lb with this rod.
Let's explore some other features of this rod; The Fuji reel seat and stainless steel guides strengthen the casting. While the EVA foam and cork handle makes the ideal combination for anglers.
Another tremendous feature is that this pole offers a 2-piece grip system. It is a split-up grip-traditional grip style for light panfish rods. You can use it with lightweight lures for small fish, and it makes this rod travel-friendly.
To conclude, whether you are a beginner or a pro angler, you can never go wrong with Cadence CR5 Panfish Rod. Besides the amazing quality and performance fishing poles, Cadence is kind to share a few percent of each of your purchases for charity to children.
Temple fork outfitters (TFO) offer a versatile series of rods, not only best for pan fishing but also perfect for comparatively larger species.
The five-star components in-built, along with the quality construction of this rod and the superfine finish, make it a great deal for anglers who like shorter catches near the bank in deep water.
Also, this stainless steel rod gives strong support to anglers when casting at shorter distances. TFO is a 5 feet 5-inch rod that is small in size and is best for small species.
The stainless steel guides provide additional support to this rod while minimizing the risk of unbalance fishing. High-quality graphite blank has a little opening on one side, making it super comfy for the anglers to adjust their hands for better grip.
TFO panfish rod is from the pro series with variable rods raging in different sizes, and its power is differentiable based on the special color ID present with the burl cap.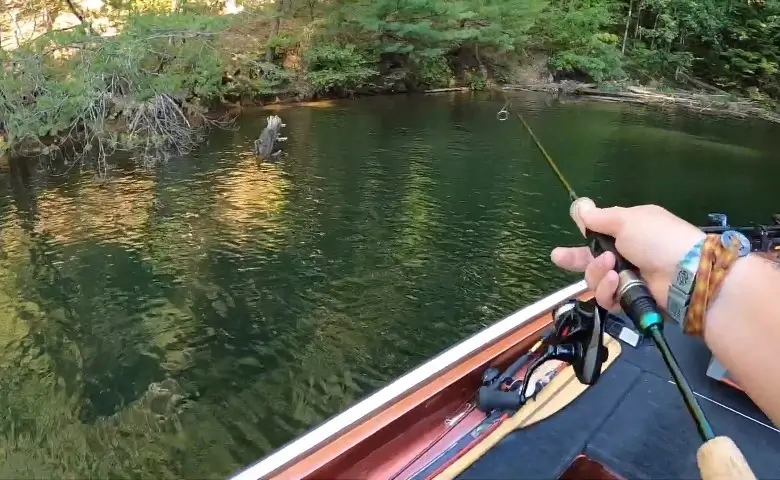 You can experiment with this rod to see its casting extent for different species. It is an extremely sensitive rod and is well-balanced. You can play with different reels to go beyond their optimum limit. Also, you can experiment with the lure size to get more strikes.
---
Your Questions Answered
1. What is the best panfish rod?
ST Croix panfish rod are some of the best rods that you can use for catching all types of sunfish, including bluegills, catfish, crappie, trout, perch. Think of them as the leader in this type of rod.
2. What kind of rod do you use for bluegill?
The ideal bluegill fishing rod is one having fast action with ultra-light power. Monofilament lines of 12 lb. are ideal for bluegills. Braided lines do not get along with the freshwater environment, so you should avoid it.
You can use lures weight ranging from 1/64- to 1/8- ounce for this species. Usually, spinning rods are the best fishing rods for bluegill. Lamiglas – X-11 Panfish Fishing Rod is our favorite one for bluefish.
3. Can I use a normal rod for pan fishing?
Yes, you can use a normal fishing rod to catch panfish. However, using a rod specifically designed for panfish might enhance your experience and success due to their special characteristics. Panfish rods are typically more sensitive, allowing you to detect smaller bites.
4. Can you use a panfish rod for trout?
Yes, you can definitely use a panfish rod for trout fishing, especially if you're targeting smaller trout species such as Brook or Rainbow. Trout often require a similar level of sensitivity in the rod to feel their bites, which makes a panfish rod a great choice. Don't go too big though.
5. Are panfish rods good for catching other species too then?
Ultralight panfish rods work well for any light biting fish like smallmouth bass, walleye and more. The sensitive tips detect bites well. Just match the rod power, line strength and lure to the size fish you are targeting.
6. What pound test line should I use on a panfish rod?
Most panfish rods are designed for 4-8 lb test line. Monofilament or fluorocarbon line in the 2-6 lb range is common. Braided line from 6-15 lbs can also work well by improving sensitivity while still being light. Match the line strength to the species being targeted.
7. What are the best reels to pair with a panfish rod?
Good reel choices include ultralight or light spin cast reels and spinning reels. Look for models with smooth drag systems to handle fighting fish. Spinning reels allow longer casts and better lure control. Spin cast reels are easier to use for beginners.
---
Final Thoughts
Catching the bluegill for your next meal might sound thrilling, but choosing the right rod is so important. Choose one of these fast action rods which bend primarily near the top, and you'll be in great shape. Now, go catch supper!