Expensive fishing gear can help make things easier, it often lasts longer and can be more reliable, so let's talk about two most expensive fishing reels in the world.
Some reels from less popular or custom brands may cost more, but these are the most expensive ones that you can find online.
What Are The Most Expensive Fishing Reels?
There are few fishing reels that break through the $300-$500 price point, which is still significant for many types of reels, but far from unheard of.
When the price of a reel reaches up to or over $1,000, well, that's noteworthy.
The Shimano Stella SW Spinning Reel retails between $1,000 and $1,250 depending on the size and retailer.
This is a top-of-the-line spinning reel designed for saltwater surf fishing, built to handle the toughest conditions.
Unlike most spinning reels that have bodies made of plastic or polymer, the Shimano Stella SW features an all-metal body, and is one of the most expensive Shimano fishing reels.
It also has an innovative drag system that keeps heat away from the spool, a waterproof body, and sealed stainless steel bearings.
Another fishing reel that sells for even more than the Stella SW is the Daiwa Marine Power MP 3000 12V with an MSRP of $3,499.99. Check out all its amazing specs on the Daiwa website.
This is an electric conventional reel used for deep-drop fishing in the open ocean.
Commercial fishermen use deep-dropping to catch fish such as swordfish, tilefish and snowy grouper.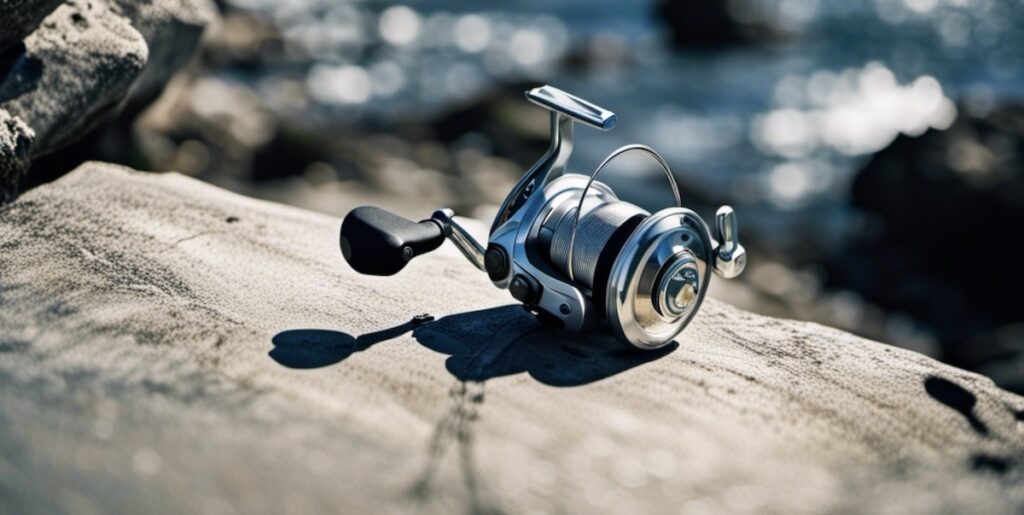 It involves dropping baits over 1000 feet deep, so the electric reel makes reeling up the catch easier and less time-consuming.
This reel also has important features such as a machine-cut aluminum frame, stainless steel internal parts, winding speed control, and a waterproof digital line readout.
What Companies Make the Most Expensive Fishing Reels?
As explained by the two highest price tag reels on the market above, Shimano and Daiwa make the most expensive fishing reels available these days.
These titans of the fishing industry make high-quality products that are the pinnacle of fishing reel technology.
Both Daiwa and Shimano originate from Japan, which is a country well known for its attention to detail and efficiency in manufacturing.
Daiwa and Shimano are true innovators of the fishing industry that other companies try to emulate.
With this reputation, it's easy to see why their products demand a premium.
Why are They So Expensive?
You may wonder if other reels can do the same thing as the Shimano Stella SW and Daiwa Marine Power MP 3000, then why are they so expensive?
The answer is these reels are made from durable, high-quality materials that are also corrosion resistant.
Materials like stainless steel and aluminum have a higher raw cost compared to cheaper materials such as regular steel and plastic, and these extra costs account for the price of the reels you buy.
Another reason why these reels are so expensive is that they are the result of cutting-edge engineering that seen in industries such as aerospace.
The extra research, development, and more precise manufacturing needs are also a high contributor to these premium reels.
Lastly, because these reels are used for such specific styles of fishing, they will only be useful for a small group of people.
Are They Worth the Money?
If the Shimano Stella SW or Daiwa Marine Power MP 3000 are worth the money is a matter of opinion, so it depends on who you ask.
These reels have a niche market, and only a few anglers will consider buying them, but those individuals need the best equipment for their needs.
If you're a keen surf angler, and you need a spinning reel that will work as hard as you do, it may be worth the money to buy the Shimano Stella SW.
If you are always replacing less expensive reels because of corrosion and wear, paying more for the Shimano Stella SW may save you money in the long run.
As for the Daiwa Marine Power MP 3000, if you're a commercial fisherman that deep drops day after day to make a living, it may be well worth the money.
If you're a recreational deep drop angler, there may be less expensive reels out there that will do the job.
To Wrap Things Up
Most of us to need to think about our gear budget, but it's fun to look at some of the most expensive reels for their fantastic quality and innovations.
The reasons for buying expensive gear are many. Some anglers want the best quality gear, some want it as a status symbol, and others think you must spend lots of money to get a long-lasting product.
Whatever the goal is, both the Shimano Stella SW and Daiwa Marine Power MP 3000 will achieve it.
What do you think? Are these reels worth the money, or do you think there's no good reason they should be as expensive as they are? Does high cost always equal high quality?